Bespoke Website Design
Given the complexity and diversity of Arcinova's offerings we needed to develop a website which displays all of their services clearly.
We created a system that uses two menus, one to present general site links, such as the About Us & Contact Us, and a services menu to direct visitors to the field they're interested in. Once the visitor has found their area of interest they can then read more about specific services offered.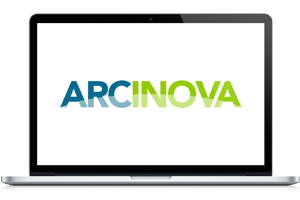 Brand Design
The nature of the company meant their new branding needed to exude professionalism and trust. Our graphic design team developed some concept artworks and worked closely with the management team at Arcinova to refine the company logo. The end result was a logo that represents the business' core values: Customer Focus, Respect for People, Integrity, Transparency and a Passion for Performance.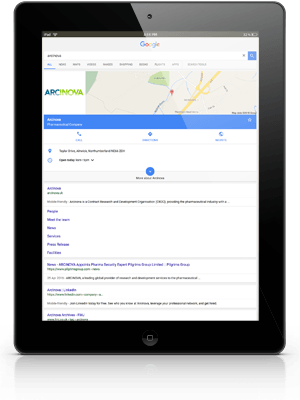 Search Engine Optimisation
To increase the search engine ranking and exposure of the new Arcinova website we offered an on going package of SEO works. This involved an initial on boarding phase, ensuring that site content was optimised correctly, required social accounts were set up and that search engines were indexing the site correctly.
Shortly after this initial package of works we saw a great impact on the search engine results page for brand searches.
In such a specialist & competitive market search engine optimisation provides outstanding results. The specialist words and phrases can be targeted to direct specific landing pages and tie in with marketing strategies.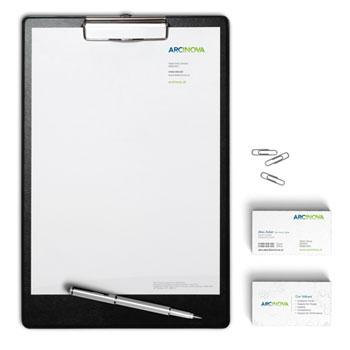 Stationary & Marketing Materials
We were required to design and print stationary and branded materials for Arcinova and the staff at the facility. This involved designing company letterheads, 29 individual sets of business cards, posters, site safety leaflets, branded usb drives, pens, coasters and umbrellas!
Given there was such a diverse amount of printed materials a lot of proofs and revisions were created. We used the tr10.com document storage system to send all proofs to the required individuals, ensuring revisions and originals were stored safely and were easily accessible by those at tr10.com and Arcinova.
Branding & Web Design for New Businesses
If your business is thinking about going through a rebrand or is changing owners we can help make the transition easier for you and your staff. To find out more visit our contact us page or give us a call. We've got years of experience of working with new and existing businesses and we're also a registerered provider for the North East Business Support Fund.